The role of the midwife is very diverse and involves more than just delivering babies. A midwife is usually the first and main contact for women during their pregnancy, throughout labour and the early postnatal period but could extend up to 8 weeks after birth as they help parents adjust to their new parental role. As well as being responsible for providing care; midwives must support women to make informed choices about their care. The midwife also works in partnership with other health and social care services to meet individual mothers' needs, for example, teenage mothers, mothers who are socially excluded, disabled mothers and mothers from diverse ethnic backgrounds. Midwives at UCLH offer antenatal care both in the hospital and the community and a home birth service for women who live in the local area.
Midwives are responsible for their own individual practice and have a statutory responsibility to keep up to date with current knowledge.
Meg began her career in the NHS as a student nurse in 1987. She worked as a staff nurse for a couple of years before training to become a midwife in 1992. She has worked in all areas of midwifery practice and held a number of senior roles.
Meg joined the UCLH team in the summer of 2018 as consultant midwife for normality, safety, research and development. She runs a birth after caesarean section clinic with a consultant obstetrician where she sees women who have had a caesarean section in a previous pregnancy to counsel and advise on mode of birth in this pregnancy.
Meg is a professional midwifery advocate, a relatively new role in midwifery. She is keen to develop this role along with her colleagues within the Trust.
Meg believes that the role of the midwife is vital in supporting and empowering women in achieving the best possible birth experience.
Ana was formerly the matron for the Labour Ward, Antenatal Care Unit, Maternity Care Unit and MFAU. She has a wealth of experience in different midwifery settings across London. She is passionate about incorporating innovation into health care and to improve our maternity pathways to make them safer and more efficient.
"I am passionate about service improvement initiatives in order to make things better for both women and their families and for the midwives caring for them.""
Email: ana.esquerdo@nhs.net
Anna joined UCLH in 2011, and has hands on experience of working in all of our maternity departments.
After some time leading the antenatal clinic, Anna has taken on the role of Interim Outpatient Matron, which encompasses the antenatal clinic, birth centre, community midwifery and fetal medicine unit.
Anna believes strongly in promoting equality in healthcare, facilitating choice in childbirth and the importance of high quality, compassionate care.
Email: anna.white5@nhs.net
Teresa Driver is the Lead Safeguarding Midwife. She leads on all safeguarding activities to ensure woman, partners and their children are safeguarded from harm and their welfare promoted. She works in collaboration with the paediatric lead nurse and the adult safeguarding team.
Together with a colleague, Teresa provides the link for both professionals and the women under the care of the safeguarding team. The aim of the safeguarding practice is to signpost women and their families for extra support in pregnancy to promote physical and mental well-being and safeguard the baby.
The safeguarding team work collaboratively with local authorities, domestic abuse services, perinatal mental health and primary health care to ensure appropriate plans are in place to facilitate safe discharge of mother and child.
Teresa's special interest is maternal attachment and how to facilitate and enhance this process in pregnancy and in the early postnatal period.
Email: teresadriver@nhs.net
Ann trained as a midwife at the University of Limerick, Ireland. Soon after qualifying, she moved to England and joined the NHS where she developed her skills. Since joining UCLH in 2014, Ann has gained a variety of clinical, research and managerial experience. She has been a member of the Women's Health Safety Team for the past 5 years. As Matron for Governance, Safety and Patient Experience, she strives to ensure that the EGA is a safe and compassionate place for the families we care for and the multidisciplinary team members we work with.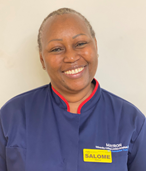 Salome is the Matron for maternity inpatient services; this includes the Maternal & Fetal Assessment Unit (MFAU), Labour Ward, the Maternity Care Unit (MCU) and the Antenatal Care Unit (ACU).
Constance joined UCLH as a band 6 midwife in December 2008. She trained at Middlesex University, both in Adult Nursing (qualified 2004) and as a Registered Midwife (2007). Constance has worked in all areas of midwifery and her passion is to continue improving women's experiences and their safety. In addition, Constance prioritises staff wellbeing as this will influence the care provided to women and their babies.
Colleen joined UCLH in August 2010 as a Clinical Practice Facilitator, and is currently Consultant m
idwife for Public Health and Education. She has held several posts as a midwife, manger, educator and researcher in the NHS over past 45 years. Colleen trained as a nurse and midwife at Harrogate and Sheffield and has a particular focus on how women experience maternity services, staff well-being, and 'growing' the next generation of midwives.
Lianne is the newest member of our senior midwifery team having joined UCLH as Lead Midwife for Education in January 2022. Lianne is a direct entry midwife having focused all her secondary education aimed at achieving this goal, she trained in East London and qualified in 2008. Between qualification and joining UCLH she consolidated her clinical skills in all areas of midwifery care and then worked for many years in a maternity education team. Lianne's belief is that staff who work together should train together (a motto close to her heart), and she strives to achieve this aim for all our pre and post registration colleagues.