MyCare UCLH is the digital patient portal at UCLH. You can also use MyCare to view and send messages to UCLH, but you should not use MyCare for urgent or emergency medical advice.
Please contact 111 for urgent medical advice or 999 for medical emergencies.
You can find more information on how to register and use MyCare here.
How to view and send messages with MyCare (from Wednesday 3 May)
When you are logged into MyCare, you can view and send messages from the shortcut in the top panel as shown below.
You can also access the Message Centre from the Menu.
In the Message Centre you can send a new message, read your conversations with different care teams, and view automatic appointment reminders.
Clinicians may contact you in this way through MyCare to update you on your progress, test results, or answer a question you have sent.
Please note that you will only be able to reply to these messages up to 8 weeks after receiving them.
If you want to ask a question, first select "Send a message" to open the new message chat box and then select "Ask a question".
More information can be found in the disclaimer. Please select "Next" to confirm you have read and understood it.
You can then select a topic for your question.
Depending on which service you have seen (or are about to see) one or more recipients may display. Select the team you wish to contact and enter your message.
Please include all the relevant information available to you such as the name of the clinician you have spoken to, or the date and time of the appointment you are enquiring about.
There is additional guidance under the "Learn more" section.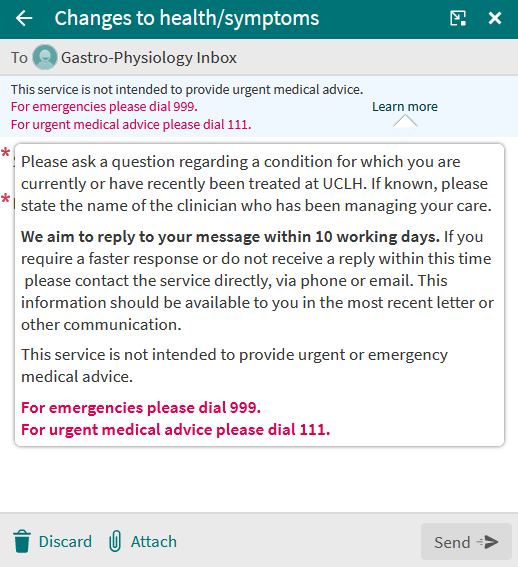 If you have successfully sent a message, a member of staff from that service will review your message. Please allow up to 10 working days for a reply.
If you need a faster response, please consider contacting the service via phone or email. Their contact information should be available to you in both your appointment and/or discharge letters.
In some instances, such as when you do not have any recent visits with UCLH, you may not be able to message our teams. This is to ensure that queries are strictly related to the care we provide. The following message will display:
Should you need UCLH's input, please contact the UCLH Switchboard at 020 345 67890.
For technical issues related to accessing MyCare, please contact the MyCare helpdesk at uclh.mycare@nhs.net.
Please contact 111 for urgent medical advice or 999 for medical emergencies.