Specialist multi-disciplinary team (MDT)
At UCLH you will be looked after by a specialist multidisciplinary team (MDT). The MDT consist of doctors, nurses and coordinators who all have specialist training and experience in diagnosing, treating and supporting patients with urological cancers.
To see individual team members please select one of the cancer types below:
The urological cancer MDT meeting
The MDT meets every week to discuss the diagnosis and treatment plan of individual patients. They ensure that each patient is given the same high standard of care and has the most appropriate investigations and treatment.
As part of your cancer treatment you may require surgery. The surgeon treating you will be a specialist in performing the type of surgery you require.
Oncologists are specialists in the chemotherapy or radiotherapy treatment used to treat your type of cancer.
Consultant radiologists are specialists in examining and interpreting x-rays, CT scans, MRI scans, bone scans and other diagnostic tests to diagnose disease.
Clinical nurse specialists are qualified nurses with specialist training and extensive experience in treating patients with your type of cancer. They offer advice and support throughout your diagnosis, treatment and follow-up.
Your CNS may also act as your 'key-worker' during your treatment, which means they are a consistent point of contact for you, your family and any professionals involved in your care. They can be contacted between 08:00 and 16:00, Monday to Friday (excluding bank holidays).
As a large research centre, UCLH runs a range of clinical studies aimed at advancing knowledge and improving treatment and outcomes in urological care. If you choose to participate, you will be supported by a research nurse.
It may be appropriate to refer you to your local continence team. Your key worker will be able to do this for you. These are trained nurses with specialist knowledge relating to continence care.
Consultants
Professor John Kelly is a consultant urological surgeon specialising in robotic surgery for bladder and prostate cancer. He is the lead for the London Cancer Urology Surgery Centre and the robotic surgery programme at UCLH. John is the Professor of Uro-Oncology at UCL and his research group explore how new therapies for bladder and prostate cancer can improve outcomes for patients. He is Chief Investigator for multicentre clinical trials including studies which identify genomic alterations in cancer for the early detection of disease.
Professor John Kelly is a consultant urological surgeon specialising in robotic surgery for bladder cancer. John is the Professor of Uro-Oncology at UCL and his research group explore how new therapies for bladder and prostate cancer can improve outcomes for patients. He is Chief Investigator for multicentre clinical trials including studies which identify genomic alterations in cancer for the early detection of disease.
The department is one the largest in Europe and delivers cutting edge surgery using the latest technologies The position, working with teams across the many different aspects of Urology and leaders in the field is highly rewarding.
John moved to UCLH in 2009 from Cambridge University having worked at Addenbrookes in complex cancer surgery and as a fellow at the Cornell University Hospital, New York. He is known Internationally for his pioneering work in robotic surgery and is the Director of the Chitra Sethia Minimal Access Centre at UCH which trains robotic surgeons from the UK and abroad. John has been the Chairman of the UK National Cancer Research Institute, Bladder Clinical Studies Group and is currently the Chairman of the Scientific Committee of The Urology Foundation. John holds the Orchid Chair of Male Genito-Urinary Oncology with the Orchid Charity.
"I work with great people in urology and they have a common goal, we strive to provide the best care in a safe and caring environment providing high quality surgery"
Mr Manit Arya qualified from Manchester Medical School. Following a basic surgical rotation around Manchester and Birmingham, he completed his higher specialist training in Urology in the North London rotation.
His clinical interests are in establishing the latest innovative techniques in the treatment of prostate cancer such as focal HIFU and cryotherapy. He leads the prostate cryotherapy programme at UCLH and is an international mentor for both HIFU and cryotherapy. UCLH is the largest volume focal prostate cryotherapy centre in Europe.
His research interests include investigating the metastatic process of prostate cancer at a molecular level. This research is continuing. He has published extensively throughout the Urology literature particularly in the field of urological oncology and has edited ten textbooks and published approximately 200 articles in peer-reviewed journals. He is a principal investigator on several National clinical trials involving focal therapies for prostate cancer.
"The focal therapy unit at UCLH is arguably the world's leading prostate treatment unit. In relation to this tissue preserving approach, patients have access to the latest research and advances in the management of prostate cancer provided by world leading clinicians in this field."
Dr Reena Davda is a consultant in clinical oncology at UCLH. Dr Davda qualified from Edinburgh Medical School in 2002. She trained in clinical oncology in leading cancer centres across London including UCLH and the Royal Marsden. Dr Davda has undertaken research at University College London investigating signalling pathways in prostate cancer stem like cells.
Dr Davda specialises in the management of prostate and bladder cancer and practices at both University College London Hospital and Princess Alexandra Hospital, Harlow. Alongside her clinical and academic practice, she is also involved in teaching, training and supervision of junior doctors and research fellows.
Professor Mark Emberton and the prostate cancer team have transformed one of the most common cancer pathways. Imaging was introduced, as was the process of targeted prostate biopsy. Together these innovations have resulted in fewer biopsies, better biopsies and more precise risk-stratification. In addition, the minimally invasive treatments that he, and the team have introduced, has meant that many men can have their prostate cancer treated without any side-effects.
He has published over 300 scientific papers, lectures internationally and is a sought after visiting professor. He was awarded NHIR senior investigator status in 2015.
In August 2015 he was appointed as dean of the faculty of medical sciences at UCL.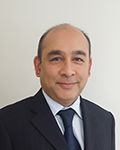 Anand Kelkar is a consultant urological surgeon working at the University College Hospital, London. He is one of our high volume surgeons with more than twenty years of experience in treating prostate and bladder cancer. The main focus of his practice is robotic prostatectomy and pelvic surgery.
Dr Mark Linch is a consultant medical oncologist specialising in the treatment of prostate and bladder cancer, and honorary senior lecturer at University College London (UCL) Cancer Institute where he leads the uro-oncology biology group.
Dr Linch is currently principal investigator or co-investigator in numerous clinical trials in prostate, bladder and penile cancer, both early and late phase, meaning that most patients at UCLH will have the opportunity to be involved in cutting edge therapeutic research. Dr Linch leads on a number of studies involving in depth profiling of patients' cancers, looking for genetic, protein and immune cell changes that are associated with cancer. Through this work, Dr Linch hopes to be able to match individual patients with effective therapies, incorporate immunotherapy into routine clinical practice for urological malignancies and help develop novel therapies.
"Through an in depth understanding of my patients and the underlying biology of their cancer, I aim to give a personalised treatment and strive to be able to develop truly individualised anti-cancer therapies in the future. The skill and dedication of the uro-oncology team that I work with at UCLH, combined with the highest quality science at UCL, means that these aims can become a reality."
Dr Ursula McGovern is a consultant medical oncologist, working at UCLH and the Royal Free NHS Trust. She was appointed a consultant in 2011, after completing her higher specialist oncology training in London and obtaining a PhD in molecular oncology from Imperial College, funded by Cancer Research UK. Her PhD research focused on the role of FOXO transcription factors in sensitivity to chemotherapy.
She specialises in the treatment of prostate and bladder cancer and is principal or co-investigator on many national trials at both UCLH and Barnet Hospital for men with advanced prostate cancer and patients with bladder cancer, collaborating with a number of other centres in the UK and internationally.
She has a keen interest in medical education, both postgraduate and undergraduate, and lectures for The Institute of Urology and is also the Undergraduate Lead for Oncology at UCL, responsible for overseeing the oncology teaching delivered to UCL medical students.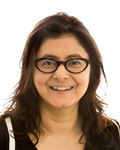 Dr Anita Mitra is a consultant in clinical oncology at University College London Hospitals. She has a busy practice managing prostate, bladder, andrology and gynaecological malignancies.
Dr Mitra qualified in London in 1995. She trained in oncology in London teaching hospitals and the Royal Marsden, completing her research doctorate in prostate cancer from the Institute of Cancer Research. She has published widely and leads in the management of a portfolio of clinical trials.
Dr Mitra's interest is in the innovation of technical radiotherapy. The aim of this research is to use novel techniques to minimise dose to normal tissues while maximising tumour control.
Caroline Moore was a Royal College of Surgeons research fellow in 2002, working on photodynamic therapy for prostate cancer. She has pursued a clinical academic career since then, developing a portfolio of trials in a number of aspects of prostate cancer diagnosis and management. She holds current funding awards from Prostate Cancer UK, Movember, the Cancer Vaccine Institute, the National Institute for Health Research, the European Association of Urology Research Foundation, the Wellcome Trust and the Department of Health.
Caroline is committed to individualised prostate cancer assessment and treatment, combining imaging with shared decision making for men with localised prostate cancer. She has particular interests in using patient reported outcomes to identify and disseminate best surgical practice; the use of MRI and different approaches to psychological support for men on active surveillance; decision making in localised prostate cancer; and the development of non-traditional follow up methods after prostate cancer diagnosis.
''Our prostate cancer team at UCLH is fortunate to be able to offer the highest quality prostate imaging, along with a novel approach to active surveillance and focal treatment, to give men the widest choice of options. We also seek to support men in their decision making, so that they have the best information to make the right decision for them''.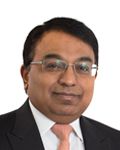 Senthil Nathan is a consultant urological surgeon and honorary clinical senior lecturer, working at UCLH and is director of robotic education in Chitra Sethia Centre for Robotics and Minimally Invasive Surgery.
After graduating MBBS with honours from The Madras Medical College, Senthil completed his masters in surgery from Bangalore Medical College where he won The Association of Surgeons of India Gold Medal for securing the highest mark in the surgical exit exam. While working as an assistant surgeon in The Church of South India Hospital in Bangalore he was one among the first candidates to be selected by the Royal College of Surgeons of England to continue specialist training in the overseas training scheme.
After working in general surgery and obtaining FRCS in Yorkshire he obtained a diploma in urology while working at Royal Free Hospital. He secured an honorary lecturer position at Guys Hospital to develop robotic techniques in urology. Along with Mr John Wickham and colleagues from The Imperial College he developed The Probot, and carried out the first true robotic surgery in the world.
Prabhakar Rajan is a member of the robotic surgery team, and has a specialist interest in the treatment of prostate cancer by robot-assisted radical prostatectomy. Mr Rajan studied physiology and medicine at Cambridge University, and completed junior surgical and senior urological residencies in Edinburgh and Glasgow, respectively. After Fellowship training in robotic surgery at the Karolinska University Hospital, Stockholm, Sweden, he was appointed as a consultant in urology with an interest in general urology and laparoscopy within NHS Greater Glasgow and Clyde, and moved to UCLH and Barts Health NHS Trusts in October 2015.
Mr Rajan is one of only a handful of academic surgeons in the UK to be awarded an RCSEng/CR-UK clinician scientist fellowship in surgery, which supports a laboratory-based research programme at Barts Cancer Institute, Queen Mary University of London. Work in his laboratory focusses on how key genetic changes in prostate cancer cells allow them to become resistant to various treatments and spread to other parts of the body.
"I am very fortunate to have a varied and exciting job. On one day, I see and operate on a patient with prostate cancer, and on the next, I am studying the biology of how cancer cells behave in my laboratory. The overall goal is that through a better understanding of the science behind cancer, I can find more treatments for patients and improve their chances of beating the disease."
Mr Greg Shaw is a consultant urological surgeon responsible for caring for patients with prostate cancer. He is the lead for the robotic surgery programme at UCLH.
He is a surgeon with a strong academic interest in the molecular biology of urological cancer, robotic surgery, diagnostic precision and risk stratification. He is currently leading a project to develop the Neurosafe technique (pioneered in Germany) for UK patients, which is designed to promote nerve sparing without compromising oncological control at robotic radical prostatectomy. UCLH is the first London hospital where this technique has been used. This technique will be evaluated scientifically in a planned randomised controlled study, which Greg is leading on.
"Robotic surgery offers the gold standard of treatment for localised prostate cancer. UCLH is a national centre for robotic surgery where we strive to deliver world class care. We are pioneering new technologies to counter uncertainties in preoperative staging of prostate cancer by promoting quality of life for post-operative patients by nerve sparing where possible without jeopardising the oncological control of their cancer."
Mr Sooriakumaran qualified with a first class degree in human anatomy and cell biology and a medical degree with honours, before completing his surgical and urology training in London. He obtained a PhD in prostate cancer and graduated from robotic prostatectomy and cystectomy fellowships at Cornell University, New York and the Karolinska Institute, Stockholm, before being appointed as an academic consultant urologist at the University of Oxford, UK. At Oxford, he became the highest volume robotic surgeon performing half of all the robot-assisted radical prostatectomies.
In January 2017, he moved to UCLH and continues to perform robot-assisted radical prostatectomy in large numbers.
After completing his undergraduate medical degree in India, Ashwin came to the UK to pursue a masters in robotic surgery at Imperial college, which he passed with distinction. He then joined the urology team at UCLH as an SHO in 2012. Over the next six years, he trained in all aspects of urology with a specialist focus in pelvic Uro-oncology.
After obtaining specialist registration via the CESR route, he was successfully appointed as a consultant Urologist at UCLH in 2018 working within the uro-oncology firm. Ashwin has a keen interest in clinical outcomes research with a view to quality assurance of surgical treatment by improving surgical techniques and thereby enhancing patient experience.
He also has a keen interest in education and training of medical students, residents, fellows, novice robotic surgeons and the wider surgical team. He is pursuing a higher degree in clinical education at UCL to better understand the theoretical principles behind adult education.
He is an honorary clinical lecturer at UCL, leading the module on robotic surgical skills training. I am currently leading fellowship education at UCLH, focussing on setting up a virtual collaborative learning environment for urological training incorporating educational theory and practice. This is currently being developed and validated.
Clinical nurse specialists
Hilary trained as a RGN at UCH in 1983, and went on to have varied surgical experience, mainly in urology as a ward sister, and also a nurse manager in both the NHS and the private sector. In 1995 she was appointed a urology CNS at Central Middlesex Hospital when there was an increasing demand for nurses in specialist areas with knowledge and skills to support urology patients. In 2001, with funding from the NHS Plan, she was employed as uro-oncology CNS and team leader at Buckinghamshire NHS Trust.
In September 2014, Hilary was appointed as lead CNS for uro-oncology. She has a BSc (Hons) in cancer and palliative care and is registered as a specialist practitioner in adult nursing with the Nursing and Midwifery Council. She has recently completed her MSc in cancer studies at Oxford Brookes University.
Hilary's responsibilities within UCLH and London Cancer are to provide managerial and professional nursing leadership across the uro-oncology service. She oversees planning and delivery of cancer services to help personalise the cancer pathway for individual patients and to meet the complex information and holistic needs of patients and their families.
'I am dedicated to providing safe evidence-based cancer care, and to continually assess the patient experience to improve our service'.
Richard works with people who have different types of urological cancers. His focus over the last few years has been on the holistic care and treatment for patients who have been diagnosed with bladder cancer. He is building upon his expertise by studying for his masters degree in advanced nursing practice.
"I endeavour to ensure that our patients receive the quality of care that I would wish for myself, my family and my friends"
Tel: 020 3447 5134
Email: richard.weston2@nhs.net
Janet trained at the Kent and Canterbury NHS Trust qualifying in 1994 obtaining her BSc (Hons) degree in general nursing. She initially worked on a busy surgical ward specialising in urology/trauma orthopaedic and vascular surgery. Janet then travelled to Australia in 1999 to work in a private hospital where she did her initial training in chemotherapy administration.
On returning to the UK Janet continued to work within oncology gaining more experience in caring for patients undergoing treatment for urological cancers. Janet was then appointed as a urology diagnostic CNS in Reading in 2002 where she set up several nurse led services including uro-dynamics. In 2008 she joined the uro-oncology team in Reading as a CNS gaining more experience in caring for patients with a urological cancer. Janet joined UCLH in 2016 as a member of the uro-oncology CNS team. During the course of her career Janet has also obtained her Msc Certificate and her non-medical prescribers enabling her to work more autonomously.
"I have experience in setting up nurse led clinics which have proven a great success in reducing the clinic load for consultants, while providing a great service for the patients."
The urinary diversion nurse specialists provide support to bladder cancer patients who require surgical intervention and urinary diversion for their bladder cancer. They provide pre, post-operative and on-going care of individuals undergoing: ileal conduit, orthotopic neobladder, and mitrofanoff continent diversion.
"The most satisfying aspect of our role is being able to deliver patient care from start to finish and empowering patients to become independent and in control their specific urinary diversion."
Tel: 0203 447 7966
Email: Uclh.urinarydiversioncns@nhs.net
Further support information:
Sadie is the newest member of the team having joined in May 2017. Prior to this she spent much of her career on the Urology wards progressing to deputy sister. More recently Sadie spent 18 months in pre-assessment before joining the Andrology team becoming specialist nurse to men with penile and testicular cancer.
Sadie's ambition is to focus on her role as clinical nurse specialist and key worker - promoting the best possible care and support for patients and families dealing with penile and testicular cancer. Sadie hopes to continue her professional development by commencing a bachelor's degree in cancer care.
"Being able to provide patients with the best ever care and support is my main goal, and I am dedicated to be able to deliver this in a safe and professional way"
I am a senior research nurse working with patients diagnosed with non-muscle invasive bladder cancer. I identify patients who may be eligible for clinical studies and then co-ordinate their treatment and investigations in line with the protocol. Follow up varies from short to long term giving me the opportunity to develop good relationships with patients and their relatives.
This is an autonomous role which requires strict organisation and pro-activity in pushing projects forward, liaising with many different groups and departments both inside the healthcare system (R&D, pharmacy, radiology) and outside (pharmaceutical, inspectors, trials units).
"I enjoy the patient contact that this role demands."