1816 - Foundation of the Dispensary for Diseases of the Ear
The Royal Ear Hospital was founded in 1816 in Soho by Dr John Harrison Curtis as The Dispensary for Diseases of the Ear.
1826 - Foundation of University College London
University College London was founded to open up university education to those who were not entitled to attend either Oxford or Cambridge (the only two universities in England at the time) due to their religious or social background.
For further information on the history of UCL please visit the UCL website
1828 - Foundation of the University Dispensary
After University College London was founded in 1826, it soon decided that its medical students should have a hospital, attached to the University, which could provide them with clinical training. In 1828 the University Dispensary was opened. There was no space for in-patients so consequently, in 1834, the University opened North London Hospital, with space for 130 patients.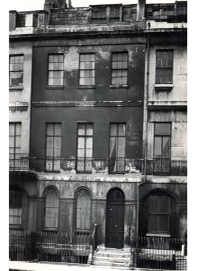 The Georgian terrace house that housed the University Dispensary
1835 - Foundation of The Middlesex Hospital Medical School
The establishment of University College Hospital to provide clinical teaching for students at UCL prompted some of the medical staff at The Middlesex to call for a Medical School to be established there. They were worried about the loss of income and prestige which would be a result of losing all their students to the rival teaching hospitals. The medical staff who signed the letter to the hospital Board were Francis Hawkins, Thomas Watson, Charles Bell, Herbert Mayo, James M. Arnott and E.W. Tuson.

Charles Bell
Charles Bell was a renowned surgeon, anatomist and artist, who discovered Bell's Palsy and produced many anatomical drawings and watercolours, some of the most important of which were produced while he was working as a medical officer at the Battle of Waterloo in 1815. He was born in Scotland and came to London in 1804. He built up a private teaching practice and then bought the Great Windmill Street School of Anatomy founded by William Hunter. His association with The Middlesex began in 1814 when he was appointed surgeon there. This was followed by appointments as Professor of Anatomy and Surgery at the Royal College of Surgeons in 1824, and then as Professor of Surgery at the new University of London (now University College London). Bell left the University in 1830 and was instrumental in establishing a Medical School at The Middlesex Hospital in 1835. In 1836 Bell went back to Edinburgh to take up a post of Professor of Surgery, and died in 1842.
1843 - Foundation of The Hospital for the Diseases of Women by Dr Protheroe Smith
The Hospital for Women was founded in 1842, originally in Red Lion Square, as the Hospital for the Diseases of Women, '…exclusively for the reception and treatment of females who are afflicted with diseases peculiar to the sex'. Annual subscribers of one guinea were members, while subscribers of ten guineas or more, and clergymen preaching on behalf of the Hospital, were life members.

Protheroe Smith, founder of the Hospital for Women, Soho
1846 - First operation under anaesthetic at UCH
The first recorded major operation under ether in Europe was performed by Robert Liston in University College Hospital on 21 December 1846. The anaesthetic itself was administered by William Squire, a student aged 21.
Robert Liston (1794-1847)
Robert Liston was born on 28 October 1794 in Ecclesmachan, Linlithgow. He went to Edinburgh University aged 14 and intended to join the Navy as a surgeon, although he never did this and instead became dresser in Edinburgh Royal Infirmary in 1814, completing his training in London between 1816 and 1818. He then qualified as a surgeon and became a Member of Royal College of Surgeons of England and Edinburgh, returning to Edinburgh until 1834, when he was invited to become surgeon to the newly-established North London Hospital (University College Hospital). It was here that he performed the first major operation under anaesthetic. He died on 7 December 1847 and was buried in Highgate Cemetery.
1849 - Foundation of Royal London Homeopathic Hospital
The London Homoeopathic Hospital was established in Golden Square, Soho, in 1849. It moved to its present site in Great Ormond Street ten years later.

The Royal London Homoeopathic Hospital, 1893
1852 - Hospital for Women moves to Soho Square

The Hospital for Women, Soho Square
1859 - Foundation of National Hospital
The National Hospital, Queen Square, for Diseases of the Nervous System including Paralysis and Epilepsy, was more commonly known as Queen Square when it was founded in 1859. It later became known as 'The National'.
Prior to its opening there was no-where that people with neurological orders could go if they were unable to afford a private consultation. Money was raised for the foundation of the hospital by Louisa and Johanna Chandler. The hospital actually opened in January 1860 in Number 24 Queen Square. People who could afford treatment paid 7 shillings a week.
1859 - Foundation of the National Hospital for the Paralysed and Epileptic
Prior to the opening of National Hospital, Queen Square, for Diseases of the Nervous System including Paralysis and Epilepsy (and also the Maida Vale Hospital for Epilepsy and Paralysis and other Diseases of the Nervous System in 1866) there was no available treatment for neurological disorders to those who couldn't afford private consultations. The money was initially raised by Louisa and Johanna Chandler by appealing to their acquaintances. The first Chairman of the Hospital Board was David Wire, The Lord Mayor of London.
The hospital opened in January 1860 in Number 24 Queen Square. People who could afford treatment paid 7 shillings a week. Money was raised very successfully for the hospital and it was able to expand into other properties in Queen Square. In 1881 a new wing consisting of an upstairs ward and an outpatients department was opened by Princess Christian. As other hospitals in the square became available, they were taken over by the hospital, including Number 26, once occupied by William Morris and Queen Square House.
For access to the archives of the hospital please contact the Rockefeller Medical Library.

The National Hospital in 1866
1860 - Foundation of The Hospital for Stone
The Hospital for Stone was established in a house at 42 Great Marylebone Street, now 34 New Cavendish Street, following a meeting on 5 March 1860 at which the lack of a specialist hospital for urological illnesses was highlighted. The Hospital moved to 54 Berners Street in 1863 and changed its name to St. Peter's Hospital for Stone.

The Hospital for Stone
1866 - Foundation of St. Mary's Dispensary for Women
The Dispensary was established in Bryanston Square, St. Marylebone, by Elizabeth Garrett.

St Mary's Dispensary and Elizabeth Garrett Anderson, c.1890
Elizabeth Garrett was determined to train as a doctor, despite the fact that this was not then a career open to women. Her attempts to train at The Middlesex Hospital failed when she was forced to leave, but she finally managed to exploit a loophole in the rules of the Society of Apothecaries to gain a certificate from them as an apothecary licensed to practice medicine. She finally managed to obtain her medical degree from the University of Paris in 1871, and in the same year she married James George Shelton Anderson. In 1874 she was a leading figure in the establishment of the London School of Medicine for Women, along with Sophia Jex-Blake. Elizabeth Garrett Anderson retired in 1902, and became mayor of Aldeburgh, the first female mayor in England. She died in 1917.
The London School of Medicine for Women eventually became the Royal Free Hospital Medical School, as the students there obtained their clinical training in the wards of the Royal Free. The School merged with UCL in 1996 to form the Royal Free and University College School of Medicine.
1873 - Foundation of the London Temperance Hospital
There was a growing temperance movement which believed that the then-prevalent practice of using and providing alcohol in hospitals was impairing staff efficiency and patients' treatment. The subject of establishing a hospital was raised, and the London Temperance Hospital opened at 112 Gower Street in 1873, receiving its first patients on 6 October. Under the rules of the new hospital, the use of alcohol to treat patients was discouraged, but not outlawed: doctors could prescribe alcohol when they thought necessary for 'exceptional cases', and a record of such cases was kept. Inpatients were admitted to the new hospital free by a letter from a governor, or on payment of a fixed amount. Outpatients could be admitted with a governor's letter or pay at least a shilling a visit. Subscribers of a guinea per annum were entitled to recommend 6 outpatients a year, or for two guineas one inpatient and six outpatients. Subscribers of 20 guineas at one time became Life Governors.
1874 - The Central London Throat and Ear Hospital was founded
Founded in 1874 by Lennox Browne, Llewellyn Thomas, Alfred Hutton, George Wallis and Ernest Turner. Due to demand being so high after it opened it moved to custom-built premises within a year. When it became clear that mergers of ear, nose and throat hospitals were inevitable, the hospital began acquiring land so that it could expand to accommodate other hospitals.
1885 - Opening of the new London Temperance Hospital building

Site of the National Temperance Hospital on Hamstead Road, 1800
1897 - Foundation of St. Paul's Hospital for Skin and Genito-Urinary Diseases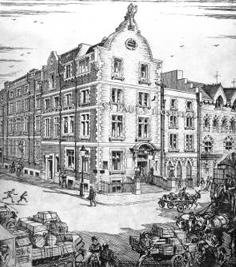 St. Paul's Hospital for Skin and Genito-Urinary Diseases
St. Paul's was established following a meeting at the Midland Grand Hotel on 27 May 1897, called by Dr Felix Vinrace. It was registered as a Benevolent Society under the Friendly Societies Act of 1896 on 10 February 1898, to be composed of members who became Governors of the Hospital. Individuals became Governors of the Hospital by subscribing three guineas a year and Life Governors by subscribing ten guineas a year. The Hospital opened as an outpatient clinic at 13a Red Lion Square on 15 August 1898 and Dr Vinrace was the Senior Surgeon from then until his death in 1927. The intention was to provide treatment primarily for venereal disease, but also for skin and genito-urinary diseases, without requiring patients to present letters of recommendation. The hospital also opened some evenings to ensure that patients did not have to lose a day's pay. 6 inpatient beds were also opened, although they were temporarily discontinued from time to time due to lack of funds.